Saturday, June 11, 2005 WATKINS GLEN – Watkins Glen International needed another series for their Rolex Sports Car race weekend lineup. Who they gonna call? How about the best open-wheel amateur series in America? That's right, the Skip Barber Race Series.
Thus begat the Skip Barber Racing "Watkins Glen Invitational," an all-star race of sorts. Two races, actually, because that's how we do it. And the boys — and girls — did not disappoint. Two great races, two great winners and podiums, a cameo appearance by an F1 and Champ Car star — the weekend had it all.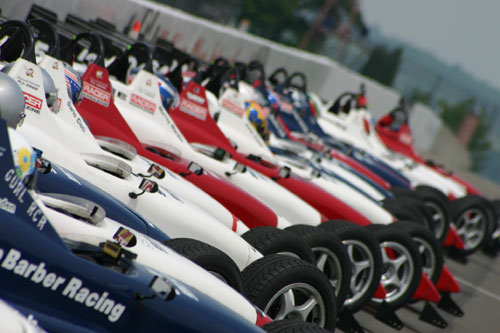 Race One
Nerves were a little bit frayed. This was the first time in a long, long time (The Meadowlands, mid-1980s, is my best guess) that the Race Series supported a big pro weekend. But these races were non-points, like a Memorial. How would, you know, everyone "act"?
The answer: Better than many drivers in "professional" events. And with a lot more action to boot!
From pole, Sy Aryeh lead a flying field into One. Here was the first test… and everybody made it through cleanly, finding the real estate they wanted. Up into the Bus Stop. An even bigger test. And again no one disappointed, everybody through. Crossing the stripe, Sy over Ivo Guerguev (fourth on the grid) and Peter Ludwig (second). Lap two, Ludwig takes "his" second place back from Ivo, Dick Lippert right there in fourth. Next time around, everybody rockets down into the Boot. God knows what went on down there, but Ludwig emerges from the Heel with the lead! On lap four, Peter and Sy begin to check out just a little bit from Ivo, Lippert (and with Roger Cote and Charles Anti gathering steam).
Lap five, halfway there, Ivo regrettably bites the dust — literally and figuratively. Ludwig's hard pedaling up front meant a dropped wheel or two, and at the Bus Stop a particularly healthy cloud was formed when Ludwig dropped two. Ivo said, "I couldn't see for a second and I missed the turn-in for Five!" Off he spun into the grass, going 360, re-joining in 12th. This moved Lippert to third, Anti to fourth (he had gotten around Cote, now fifth).
Things held station for the next two laps: nose-to-tail top three, fourth and fifth gaining. (Sy said later, "Peter kept racing me! But I wanted to hook up and go!") On lap eight, Sy's great exit at 11 paid its usual dividend halfway around the track, up in the Bus Stop, where Sy popped for the lead. All the "racin'" has dragged Lippert, still in third, really into the fray. Next lap, Peter returned the favor to Sy, snatching P1 in the Bus Stop.
Now it's the last lap and a used tissue would cover the top three. Sy does a juke going into the Bus Stop; he throws his nose inside, which Ludwig covers, then instantly moves outside and commits. "I planned that, it worked, I know the pass was ugly, but hey, I wanna win!"
Ludwig would not give up, of course, and ended up side by side with Sy going into the Laces. They actually rubbed sidewalls, but Sy kept the lead. A few hundred feet later Ludwig muffed a downshift into the Toe, and wide of the apex and late to power, the rest of the pack flew by, including Anti, brilliantly into second, Lippert into third. It was a typical Skippy race. Which is to say, close, exciting and fun.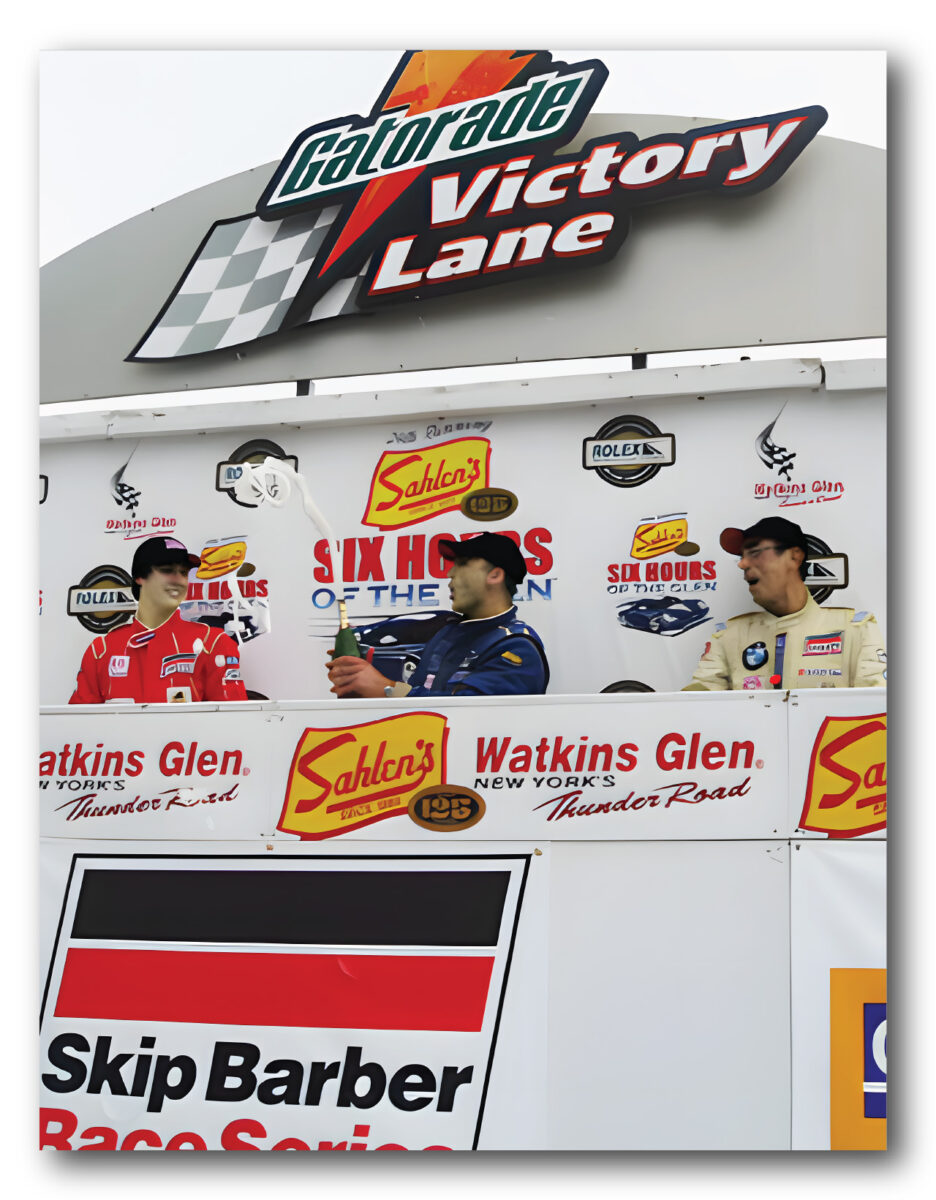 Cote did a solid job to take fourth, Ludwig salvaged fifth, Ivo recovered a bunch of spots to get sixth, followed by John Mayes, Murray Marden, Jeff Relic and Keith Lorentzen.
The cameo? That was F1, Champ Car, Atlantic and F3000 ace Roberto Moreno, who leapt in at the last minute because his Rolex DP had only given him four laps since he had arrived at the Glen Thursday. Believe it or not, in the Brazilian's long and storied career, he had never even been around Watkins Glen in a rental car. Starting last, and getting used to the track, the car and our drivers all at the same time, he worked his way to 11th at the end, setting 10th-fastest race lap. And he said he had a huge bag of fun (that's a shocker…).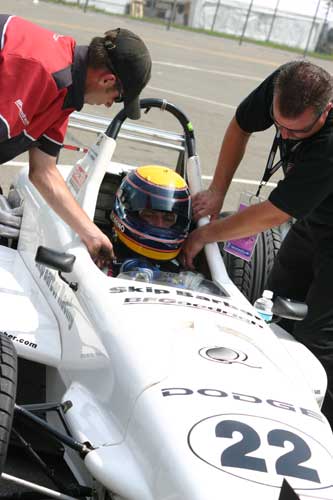 Race Two
With Sy on pole again, and him stretching a lead right from the start of race two, and with a confidence-building win less than 20 hours earlier, would Sy rocket off into the sunset, leaving crumbs for everybody else? Are you nuts? This is a Skip Barber race…

Okay, Sy did take a big lead early. Halfway around lap two, it was 1.5 seconds (that's big in the Race Series). But that would evaporate, since we had to go full course yellow, the result of some contretemps in the Laces. I don't know exactly what happened, but the end result was Lorentzen stuck in the mud and Mayes coming around in 17th, and we needed a couple laps to clear things up.
The order was Sy, Ivo, Peter, Cote (up from 10th) and Anti, we were green again for the start of lap five Into the Bus Stop, it was a three-car flair for the lead. Sy stayed on the point but Ludwig snatched second from Ivo, and Anti got around Cote. Ludwig hitched a chain to Sy's gearbox for the next lap, and on lap seven, when they got to the Toe, Sy slipped up and Ludwig went by. As did Ivo. And Anti. And Cote. And Lippert spun down there, too.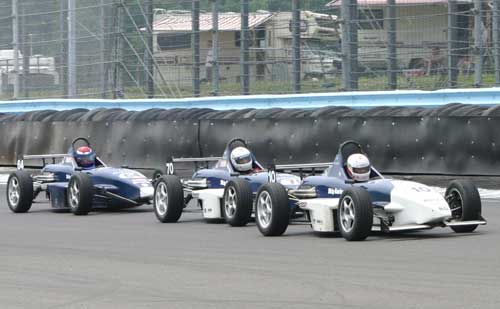 Now the pack is flying up to the Bus Stop, a lap-and-a-half to go. A flurry of cars dive into this very fast chicane, all kinds of moves are made, and the driver that emerged with the lead — Ivo Guerguev — was not even sure what happened. All that mattered to him was he was in front.
Ivo gapped everyone else, but P2 was still up for grabs. Ludwig had it starting the last lap, but again a scary flair of cars dumped themselves into the Bus Stop and out the other side came Anti in second, Sy in third and Peter in fourth. At the Heel, four corners from the end, Sy rode his brakes all the way down to the apex to get around Anti to take second.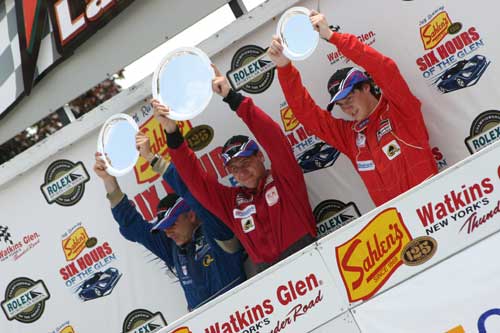 Fifth(!) was Moreno, who might've fought for the lead if there had been another lap or two, Cote was sixth, Murray Marden a terrific seventh, followed by Michael Gomez, Lippert and a recovering Mayes.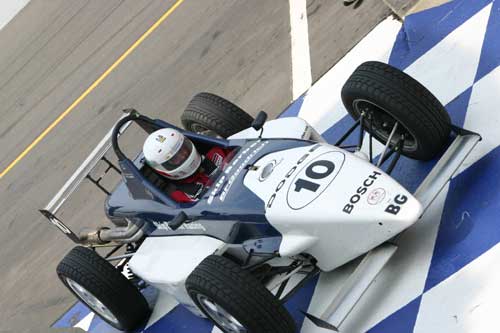 Two great races, and I gotta tell you, I'm tuckered out just writing about them. Bottom line: Thanks for putting on such a perfect show in front of a big road-racing sanctioning body and a NASCAR-owned race facility. Hope y'all had a good time…
Rick Roso